Agile Team Coach / Scrum Master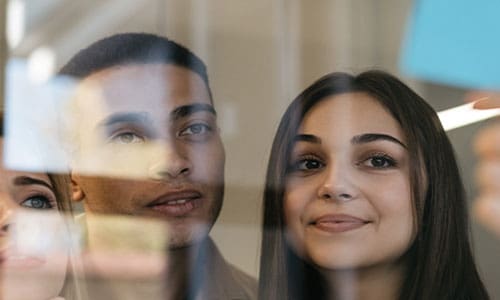 Think back to all the great leaders you've encountered in your life. Teachers, coaches, bosses – what did they have in common? Chances are, you didn't admire them for their knowledge or skill. It's likely you admired them because they brought the best out of you, and they did it with empathy and understanding.
Business and technical knowledge is beneficial, but the most important gift is helping people to achieve their level of awesomeness. This is what sets leaders apart from the rest of the pack – what makes them not just leaders, but "team coaches." A coach works with teams and individuals to challenge their organization's culture and establish new, humane ways of working that enable agile/lean thinking. A coach demonstrates empathy and professionalism, which inspires their team to do their best and quickly deliver value.
Do you want to learn how to be a servant leader and boost productivity? Want to coach your development team to be self-organizing and cross-functional? Now you can – with the help of our Agile Leaders Courses.
Get The Certified Agile Team Coach - I Certification
Certified Agile Team Coach I Course
The Certified Agile Team Coach I (CATC-I) course will prepare you to act as a servant leader who helps your team deliver value to both the customers and the company. The certification content is based on the Scrum Guide and is consistent with popular Scrum Master certifications.
Your Agile training will teach you the Scrum and Kanban framework, so you can gain a deeper understanding of team roles, events, and artifacts. With this training, you will be able to teach your fellow team members the practice of agility using Scrum and Kanban. Over time, you will be able to share your experience and knowledge to develop agile/lean competencies throughout your organization – and people will begin to value you as a leader that makes the organization better.
Don't believe us? Here is how Agile coaching changed the life of one student:
"Dr. Dave personally coached me to lead a training class on Agile methodology and the use of the Scrum framework at PetSmart. Not only did he share his exceptional knowledge of the course content with me, he also shared his approach for training the course. His ideas for conducting the training event remotely were implemented successfully. People who attended the course provided very positive feedback regarding the remote training format. Dr. Dave's servant leadership style has helped to change how our team delivers value to our customers and stakeholders." - Mike
By the end of this Agile course, you will be able to:
Serve and coach the Agile/Scrum Team
Embody and live by Agile/Scrum Values
Serve one or more Development Teams
Serve one or more Product Owners
Serve the Organization
Identify and remove impediments
Facilitate high performing teams
Facilitate Scrum Events
Lead Serious Play/Games activities
Learn about the Agile Team Coach / Scrum Master Role with Dr. Dave