Business Agility for Enterprises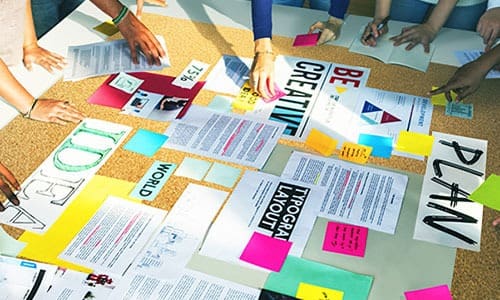 Today's businesses operate in a volatile, uncertain, complex, and ambiguous (VUCA) environment. The global COVID-19 pandemic (AKA the new coronavirus) has made this ever more obvious; from pet stores to restaurants to movie theatres, we have been thrown into a VUCA world that changes how organizations function. Now, business operations are quickly becoming digitized, and organizations innovate to survive or become yesterday's conversation.
Peter Drucker once stated, "Innovation requires us to systematically identify changes that have already occurred in a business—in demographics, in values, in technology or science—and then to look at them as opportunities. It also requires something that is most difficult for existing companies to do: to abandon rather than defend yesterday."
Modern companies must become resilient, effective, and innovative, delivering value to customers quickly with a frictionless customer experience – in other words, they need business agility.
What is Business Agility?
Business Agility creates an environment for the whole organization to respond to opportunities and threats using common frameworks, innovation, and collaboration. Digitization enables business agility and creates a platform for the enterprise cross-functional teams to collaborate effectively.
One of the biggest mistakes an organization can make today is to limit business agility to the IT departments. This limitation can create bottlenecks that inhibits the flow of value. Instead, leaders should optimize the whole organization and not sub-optimize to only include the IT department.
Succeeding with SAFe
Scaling Agile is a popular option among Agile leaders who want to enable business agility with the Scaled Agile Framework (SAFe). The SAFe transformation method is popular for companies to begin the agile training journey because it's proven, customizable, and sustainable.
With the SAFe method of Agile coaching, companies see short-term results while building long-term roadmaps to help them respond to threats and opportunities. According to SAFe research outcomes, organizations who used SAFe went to market 50 percent faster than competitors! They also saw a 35-percent increase in productivity and a 50-percent improvement in quality – plus a 30-percent increase in employee engagement.
Are you positioned to use Business Agility in your organization? Learn how to master SAFe and other Agile leadership courses by contacting Dr. Dave today.
Please note that due to COVID-19, we are currently offering the SAFe 5.0 courses virtually. Our course enrollment size begins with a minimum of five (5) students, and you can book a private class for your company. Please select one of our courses or contact us for information about private classes.
Scaled Agile Framework Courses
Watch the Business Agility Video