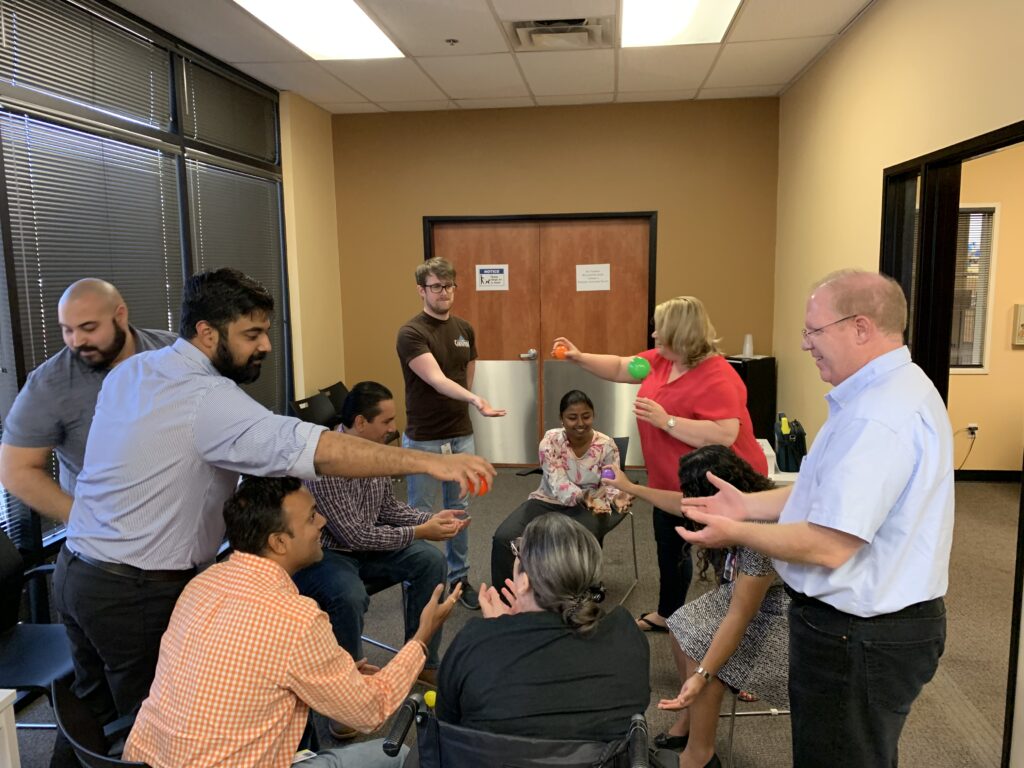 At KnolShare (Knowledge Share), we aim to partner with you in your journey toward organizational excellence. By focusing on leadership, adaptability, and customer value, we can help you achieve your level of awesomeness.
We believe in a personalized approach to coaching and training. We work with you to help you identify your unique challenges and develop customized solutions that meet your needs. Our experienced coaches and trainers have a proven track record of helping executives and organizations achieve their goals, and we're confident that we can help you achieve yours, too.
We help you strive to empower leaders and their teams, guiding them towards achieving their highest potential - awesomeness - by consistently delivering value to customers and stakeholders. Our commitment to your success is reflected in our comprehensive range of services, each designed to meet your organization's unique needs and challenges.
Our agile courses and coaching help you enrich your current capabilities. We provide the tools to generate innovation and solve personal and business problems. When you master lean and design thinking and agility, you will achieve value delivery goals from concept to cash!
Our executive and organization coaching program is based on the International Coaching Federation (ICF) standards and principles of Generative Leadership.  We focus on partnering with you to create a leadership environment that fosters creativity, innovation, and high performance. We assist in developing high-performing teams, ensuring your organization functions optimally and achieves its strategic objectives. By prioritizing self-awareness and personal growth, we equip you and your team with the skills and insights needed to enhance productivity, enabling your organization to reach new levels of success.
We offer expert coaching and training services to help executives and organizations achieve their goals and improve agility in today's fast-paced business environment. Our experienced coaches and trainers work with you to identify your unique challenges and develop customized solutions that meet your needs.
Executive Coaching
Our executive coaching services are designed to help you achieve your professional and personal goals, improve your leadership skills, and overcome any challenges that may be holding you back. We provide one-on-one coaching sessions that focus on your individual needs and goals, and we work with you to develop an actionable plan that will help you achieve success.
Organization Coaching
Our organization coaching services are designed to help teams and organizations work more effectively together. We work with you to identify areas for improvement and develop customized solutions that address your unique challenges. Our coaching sessions focus on teamwork, communication, and collaboration, helping to build stronger, more effective teams.
DEIBH Coaching
In today's increasingly interconnected and diverse world, fostering diversity, equity, inclusion, belonging, and healing (DEIBH) within organizations and systems is vital for success and resilience. This presentation will provide an overview of the groundbreaking course, "Diversity, Equity, Inclusion, Belonging, and Healing (DEIBH) in the Human Enterprise," which aims to equip participants with the knowledge and skills necessary to champion DEIBH initiatives in their organizations and communities.
Immersive Learning & Exploration
We recognize the importance of adaptability in today's fast-paced business environment. Our immersive learning sessions are designed to equip teams with adaptive ways of working, enabling them to respond swiftly and effectively to changing circumstances and customer needs. Through experiential learning, we ensure your team not only understands new practices but can also apply them in real-world scenarios. Our areas of expertise extend to Adaptive (Lean-Agile) ways of working, Lean Portfolio Management, Product Management, and Design Thinking.
Adaptive ways of working
Our business agility training services are designed to help organizations adapt to changing business environments and stay competitive. We provide expert training in agile methodologies and practices, helping your team to become more responsive, efficient, and effective. Our training sessions are tailored to your specific needs and can be delivered on-site or virtually.  Key to adaptive mindset and ways of working is enabled by Kanban, Scrum, and Scaled Agile Framework (SAFe) practices.
Design Thinking
Incorporating Design Thinking, we facilitate a creative and human-centered approach to problem-solving, fostering innovation, and encouraging a deeper understanding of your customers. We guide you in leveraging this empathetic and iterative approach to enhance your product offerings and improve customer experiences.  We center our approach based on the IDEO design thinking practices to increase human centered design and innovations.
Lean Portfolio Management
We believe in the power of Lean principles to optimize value delivery, reduce waste, and increase organizational agility. We guide you in harnessing these principles to create a streamlined and effective portfolio management strategy through the SAFe Lean Portfolio Management (LPM) practice.
Coaching teams to align on challenged areas
PetSmart contracted with Dr. Dave Cornelius as an Agile coach and trainer, and he trained over 200 team members in the SAFe and Scrum frameworks.  He coached across all levels of the organization.  Dr. Dave led several cross-functional workshops, coaching teams to align on challenged areas and develop working agreements for increased collaboration. -- Amber, IT Portfolio Director, Commerce & Customer Engagement
Helping facilitate growth for individuals and teams
Dr. Cornelius is also good at helping facilitate growth for individuals and a group.  I and one of my peers, Chris Shipman, were nominated to be Product Owners for a new workstream.  He was able to help guide and mentor us to lead the team effectively and helped Chris and me grow in this new role.  He is an expert in his field, and I felt he did a great job of building trust and confidence with both Chris and I and the team. – Heyder, VP of Global Infrastructure Services, ITS
Bringing focus and clarity for a team to deliver
Dr. Cornelius has a fantastic ability to quickly bring focus and clarity to the work for a team to deliver. His application of Lean Thinking, Human Centered Design, and Agile delivery practices enabled my team to define personas journey maps and apply Agile methods like Scrum and Kanban (Scrumban) to make work visible and reduce ambiguity. – Keith, CIO
How can you get started with KnolShare? The journey begins with your choice of one of our online courses or face-to-face training, blended with agile coaching so you can become a leader of teams or a contributor to teams. In our courses, thought leaders offer insights in technology, agility, innovation, and many other topics that help you make informed decisions.
You can access our learning experiences at your leisure, anytime and anywhere through mobile devices and computers. The courses provided on our site also qualify for the Scrum Alliance and Project management Institute (PMI) continuing education credits. You can claim PMI professional development units (PDUs) and Scrum Alliance Scrum Educational Units (SEUs) from our interactive learning experiences.
Learn more about PDUs and SEUs by visiting Scrum Alliance - Ways to earn SEUs and  Project Management Institute - Ways to earn PDUs websites – and if you want to learn more about the benefits of Agile training, contact Dr. Dave.
Watch the Do You Deliver Value Video
Ask Dr. Dave - Learn more about Coaching and immersive learning benefits for your team!