Value Stream Identification Workshop
A Value Stream is the sequence of steps used to deliver value to the Customer.
It includes the whole sequence—concept or Customer order—to delivery of value and/or receipt of cash
It contains the people who do the work, the systems, and the flow of information and materials
There are many steps to create a value stream identification engagement.  First ensure the right people with the right decision rights are engaged.  Following are the common role categories:
Representatives from the Lean-Agile Center of Excellence and other change agents who will support the SAFe implementation and help facilitate the workshop.
Executives and leaders

who have the authority required to define and support ARTs that may cut across existing silos.

Business Owners and stakeholders

who understand the flow of work within the Operational Value Streams.

Technical authorities and development managers

who can identify the impacted systems and the people who are working on them.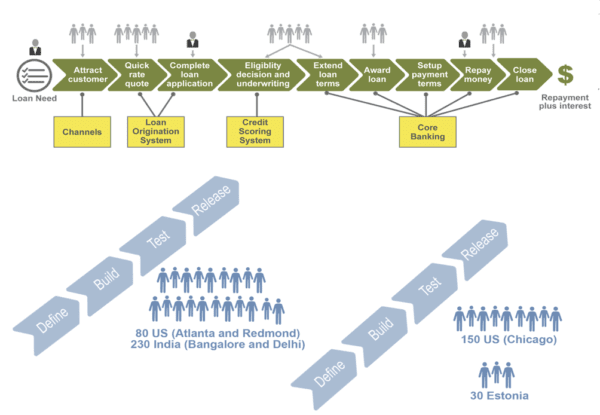 The Scaled Agile Framework (SAFe) identifies two types of value streams, operational and development.
Operational Value Streams
The sequence of activities needed to deliver a product or service to a Customer. Examples include manufacturing a product, fulfilling an e-commerce order, admitting and treating a patient, providing a loan, and delivering a professional service.
Development Value Streams
The sequence of activities needed to convert a business hypothesis into a technology-enabled Solution that delivers Customer value. Examples include designing and developing a medical device, developing and deploying a CRM system, and an e-commerce web site.
Ask us how we can help you achieve your level of awesomeness.