Helping A Client Achieve Awesomeness – Agile at Scale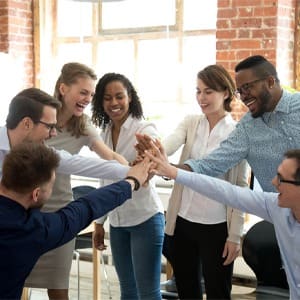 Helping a client achieve a specific objective is exciting and rewarding. Knowing that you were instrumental in the agile transformation journey that provided coaching, training, and consulting to the SVPs, Directors, Managers, and product management and software development teams increases your confidence in the ability to help teams achieve their level of awesomeness. The focus is the journey from agile adoption to agile transformation.
Agile Transformation Purpose
Adopt a lightweight iterative practice that moves the organization to strategic alignment and collaboration that satisfy customer demands and market dynamics. The defined outcomes are designed to "rinse and repeat" across the enterprise.
Adopting Scaled Agile Framework (SAFe) Outcome Measurements:
30 – 75% Faster response to market demands
Build in quality; 25 – 75% defects reduction
10 – 50% Happy and engaged contributing people
Roles over Titles
One Team over Reporting Structures
Agile Adoption vs Transformation
Agile Adoption: A change in process that is consistent with an Agile framework. Do Agile!
Agile Transformation: The process of transforming the organization's culture and structure to achieve agility. Be Agile!
| | | |
| --- | --- | --- |
| Organization Impact | Agile Adoption | Agile Transformation |
| Speed of change | Quick | Slow |
| Planning timeframe | Short term | Long term |
| Productivity gain | 60% to 100% | 300% to 1100% |
| Organization structure change | Little or none | Significant |
| Change in culture | Localized | Wide spread |
| Measure Results | Outputs | Outcomes |
Agile Adoption vs. Transformation Journey
One way to see the fruit of your labor is through the acknowledgement in an article that describes the transition to an iterative approach for product development. Mike Goodwin, stated, "In the end, the incremental approach is a more accurate way to predict financial outcomes than with waterfall, because it keeps everyone focused on the same metrics. But it does require a shift in thinking for financial governance, which evolved with us."
Learn how we may help you achieve your level of awesomeness
Learn how to maintain the stakeholder's vision while maximizing the value of work by the Development Team.
Learn to enable thought-provoking leadership skills that inspire fluid organizational flow.
We partner with your firm; we conduct a thorough analysis of your challenges to collectively seek the best solutions.