Maximize your time and investment! We offer private Agility and leadership coaching at your facility or off site.  Our trainers are Agile Certified in the most effective training methods and lean thinking practices to help you and your team reach the set goals. Alignment within the organization is important to ensure success during a digital transformation.
Our training help individuals and teams to:
Speak the same language as your team
Develop working agreements
Learn and apply Scrum principles
Learn and apply Kanban techniques
Learn and apply Lean Thinking
Learn and apply Scaled Agile Framework (SAFe) – agile at scale
Establish Sprint-0 with prioritized work
Develop DevOps automation practices
Improving Your Organization and Team Members Capability
People are the greatest contributors to innovation that delivers products and services.  In the digital transformation journey, to satisfy the customer's Jobs to be Done, you must unleash the following:
Deliver Quality Results
Provide Value
Produce On-Time
Provide More Engaging Customer Experiences
Empower Employees to Be Innovative and Self-Organizing
Reinvent Operations for Effectiveness and Scalability
Transform Products and Services
Private and Customizable Training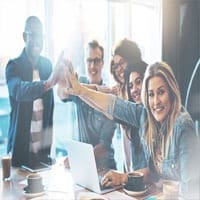 Help Your Teams Achieve Awesomeness for the Organization
Help you team members achieve awesomeness by enabling collaborative, productive, and successful teams.  The KnolShare instructor-led courses are designed to be hosted at your organization's facility for your team members.  This focused view allow your people to discuss existing or new initiatives that is private without concerns for protecting your intellectual property (IP).
The course size can be up to 40 students.  Select one of our courses to achieve success.
Scrum / Kanban Instructor-led Courses
Select one or more of our instructor-led courses.
Scaled Agile Framework (SAFe) Courses
Helping People Achieve Awesomeness!
Contact Us Today for a Free No-Obligation Consultation
Get a copy of the Continual Learning Journey Map Canvas
Ask Dr. Dave For More Info or a Quote!