Agile for Humanity – Building Economic Liberation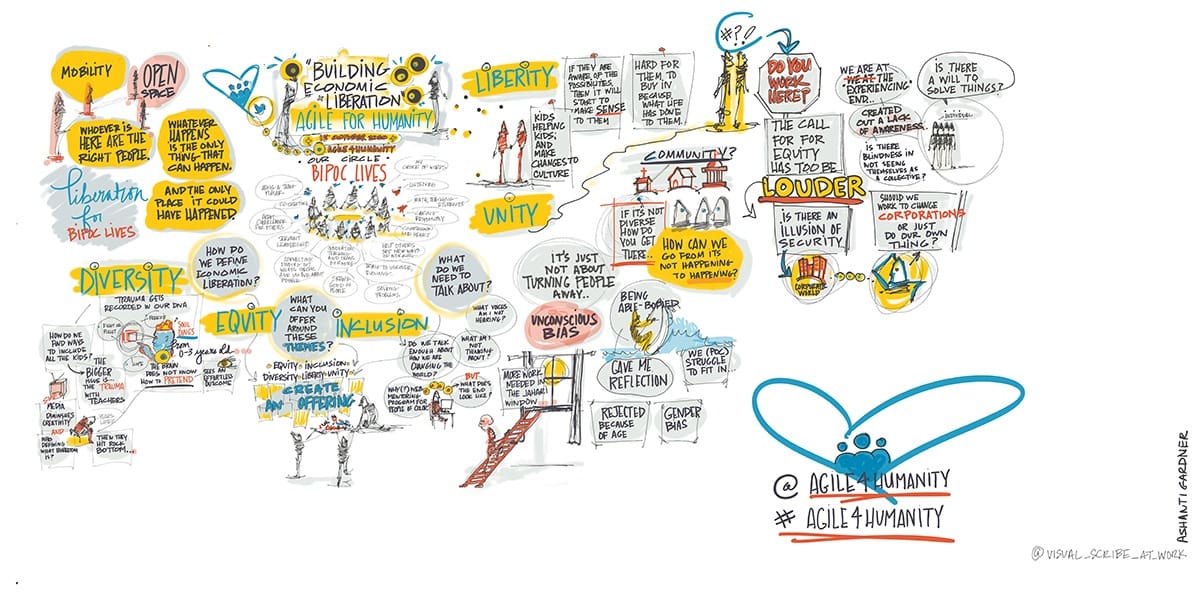 By: Dr. Dave Cornelius
The gathering for the Agile for Humanity Building Economic Liberation conference held on Thursday, October 15, 2020 invited black, indigenous, and people of color (BIPOC) and non-BIPOC individuals to share in open space conversations.  People attended from around the globe and throughout the United States.  The morning started with Joe Jones playing the sweet sounds of Bob Marley "I want to love you" and some Stevie Wonder favorites to set the mood.  April "SoulCraftWoman" Jefferson facilitated the open space proceedings to invite us into full participation to explore what was possible.
If you are new to the open space [Un]conference, it is a liberating experience that is an invitation to bring your whole self to create the topics that is of most interest to you.  The open space experience has one law, which is the law of mobility.  The mobility law simply states, if you are not getting what you need from a discussion, use your mobility to find what satisfies you.  Complimenting the one law is the five (5) principles that are 1) whoever comes are the right people, 2) whatever happens is the only thing that could have, 3) whenever it starts is the right time, 4) whenever it's over, it's over, and 5) wherever it happens is the right place.  In addition, there are three personas that are 1) Butterfly [move yourself to a place where you can contribute], 2) Bumblebee [contribute across many conversations], and 3) Groundhog [find a space to retreat and appear when you are ready].
Many topics were offered, and people indulged in deep dialogue, sharing their lived experiences.  One conversation that gained traction was "What our trauma is and how to deal with it".  Look deep into the graphic recording produced by Ashanti Gardner to see what was discussed.  The effect of trauma will continue to be a common theme for most of us in 2020 because of COVID-19, social injustice, and the economic challenges we are experiencing.
Many thanks to our sponsors 1) Agile Alliance, 2) SourceCell, and 3) KnolShare.org, who supported the inaugural launch of this event.  Our volunteers included, Stephen Treacy, Kemmy Raji, Jenny Tarwater, Tracy Treacy, Joseph Jones, Ashanti Gardner, April Jefferson, and Dr. Dave Cornelius.
This conference was a prelude to the annual conference that is scheduled for Friday, February 19, 2021 during Black History Month.  We want to create a sustainable event for BIPOC and non-BIPOC lives to enjoy peace, love, and harmony as we elevate our craft and mastery in agility, technology and product development.  Stay tuned for more details by visiting www.AgileForHumanity.org and follow us on Twitter at @Agile4Humanity.